Full trailer for John Carter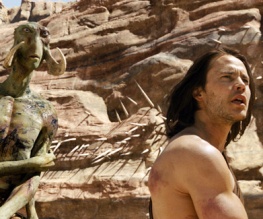 Hot on the heels of a shiny new poster comes the full length trailer for John Carter (previously of Mars, now unaffiliated with any particular planet/chocolate bar). The film, directed by Andrew "Pixar" Stanton, stars Taylor Kitsch, Lynn Collins, Dominic West, Mark Strong and Samantha Morton. It is set for release on March 9th 2012. So keep your diaries free, children.
Have a watch of the trailer below, courtesy of Cinema Blend, and share your thoughts.
[swfobj src="http://www.springboardplatform.com/mediaplayer/springboard/video/ci030/39/400773/" width="480″ height="200″]
Ahhhhhh!! They're using the music they use on the X Factor when the judges come out! Only instead of Tulisa it's a green alien! Can they do that? Someone is definitely in the wrong here. But who?!?!? Seriously though, does this film actually look good or does it look like a worse version of Avatar? That's just a question to mull over for yourselves there. We have faith in Andrew Stanton, who has previously written and directed Pixar classics Finding Nemo and Wall-E (what a HERO), it's just Taylor Kitsch and everything else that we're not so sure about.
Things we like:
1) Those green aliens. At first we were like "lolololol what are THOSE?" but on reflection we quite like the animation style.
2) That funny alien with the big face that John Carter of Twix is looking at when he says "That don't look like a fair fight". That alien is cute! We want to pet him.
3) When Dominic West looks like he's playing the same character as in 300.
The question is, what do YOU think? Did that look like a fair fight? Has John Carter of Wispa got sexy hot abs?
About The Author