Gemma Arterton and Sharlto Copley joining Men in Black III?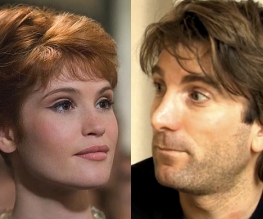 Yesterday we reported here at Best For Film that 30 Rock legend Alec Baldwin may be set to join the ranks of the MIB for upcoming threequel, Men in Black III. Well today you can add two more names to those rumours, because Pajiba are now saying that Tamara Drewe star Gemma Arterton and District 9 breakout, Sharlto Copley, may be following suit. So, if the stories are true, how will they fit into MIIIB's time travelling plotline?
With the film taking place in both 1969 and the present day, Baldwin is rumoured to be playing the MIB's boss during those segments set the past. Today's speculation is that Arterton will be joining him in the office, playing a sassy 1960s secretary – which, oddly, is pretty much what she looked like in some parts of Quantum of Solace. Copley, meanwhile, is said to be in negotiations to play what Pajiba refer to as a "fast-talking Yoda type alien". A fast talking Yoda? Does that make sense?! In any case, his turn as The A-Team's "Howling Mad" Murdoch earlier this year showed that Copley is fine with being odd and his experience with extra terrestrials is definitely beyond doubt.
With these stars potentially adding to a cast that includes Josh Brolin (as a young version of Tommy Lee Jones' Agent K), Emma Thompson (as head of MIB in the present day), Sacha Baron Cohen (voicing an alien named Boris) and Jermaine Clement as a villain named Yaz who travels back in time to 1969 in order to kill Agent K, the film is shaping up to have quite the intriguing cast. Are we excited? Well, let's just hope it's better than the second one.
About The Author