George Clooney and Matt Damon reunite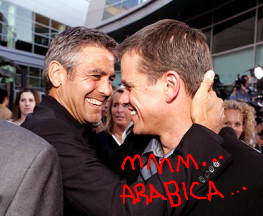 George Clooney's next directorial endeavor, The Monuments Men, follows a group of British and American art historians and museum curators as they go up against the might of the Nazi regime to save priceless works of art from senseless destruction. Think Ocean's Eleven meets Inglourious Basterds. Actually don't think that, the juicy thought of old silver fox George Clooney battering in Hitler's face with a Monet is just too exciting to handle.
So George Clooney, in his role as George Clooney, is simply not happy with a life advertising coffee machines and has assembled a crack teams of criminals to pull off the ultimate heist. Oh no wait.. He's assembled a crack team of ACTORS to pull off the ultimate SAVING-ART-DURING-HITLER'S-REIGN MOVIE. Apparently not satisfied with a cast that already includes Daniel Craig, Bill Murray, Cate Blanchett, Hugh Bonneville and that guy from The Artist, Clooney is currently in negotiations to get old friend and Team America favourite Matt Damon on board. WHY DON'T YOU JUST GET IN TOUCH WITH JESUS, GEORGE CLOONEY? HE HASN'T DONE ANYTHING RECENTLY!
Whilst there has been a plethora of World War II films littering our screens over the last few years, Grant Heslov and George Clooney's adaptation of Robert M. Edsel's true-life story tells a fascinating tale few will have heard before. Clooney starts filming in Europe in January so keep your eyes out for the grizzled, coffee-drinking rogue in a country near you.
With Damon and Clooney all set to rekindle their Ocean's chemistry, which other Ocean's actor would you most like to see battling the Nazis alongside GC?
About The Author