"Girls" actor to star with Wasikowska in film about camels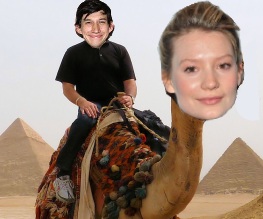 Adam Driver, the actor who plays Lena Dunham's on-off love interest in hit HBO series Girls is reportedly attached to the film Tracks alongside leading lady Mia Wasikowska. The film is being directed by John Curran and produced by Emile Sherman and Iain Canning, the people behind The King's Speech. Tracks is based on a young woman's camel trek across the Australian outback in 1977 and Wasikowska will star as Robyn Davidson with Driver as Rick Smolan, the National Geographic photographer who accompanied Davidson on her 1,400-mile journey. Apparently it's a true story which makes us question why exactly someone would want to do such a thing? Aren't camels really uncomfortable to sit on? 1400 MILES? People be crazy.
All camel nonsense aside, this sounds like a promising project. Wasikowska proved her acting ability in last year's Jane Eyre and Driver, with his odd looks and weird comic presence is definitely one to watch. Let's just hope he doesn't get the HUMP with this project. Ahem.
About The Author