Greengrass MLK bio fights for elbow room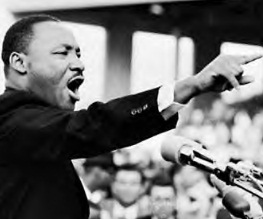 Having ditched the lucrative Bourne franchise, it looks like Paul Greengrass will be re-entering the true events territory he last inhabited with 2006's harrowing United 93 – the accomplished writer/director is currently at work on the script for Memphis, which is set to chronicle the last days of Martin Luther King as he supported a worker's strike in the titular city.
Though yet to receive the official green light, producer Scott Rudin is taking long lunches with the people at Focus Pictures, and if Memphis does get the go-ahead it will mean no fewer than three MLK pics in the pipeline: Steven Spielberg and Dreamworks acquired the rights to a biopic from the King estate back in 2009, and Precious director Lee Daniels's next, Selma, is set for release next year.
The development of all three projects will be worth keeping an eye on, if only to see which way each goes with the casting of King. Personally, I'm backing one of the films to snap up Jeffrey Wright (if they have any sense) but, if he's too busy to play one of the icons of the 20th century, Terence Howard would be a good fit too, no? Tell us what you think in the comments below.
About The Author