Gus Van Sant makes SEX REEL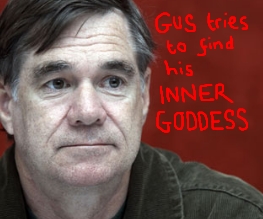 Gus Van Sant is REALLY eager to direct the film adaptation of everyone on the tube's favorite reading material, 50 Shades of Grey. Like, REALLY eager. So much so that he's already gone and filmed a steamy sex scene – just off his own back. This test reel reportedly stars the undeniably chiselled Alex Pettyfer as the undeniably kinky Christian Grey. Despite the fact that this must have been an incredibly gruelling, difficult day for Gus his work hasn't even paid off yet. Producing studios Focus Features and Universal have yet to even comment on the likelihood of him being hired. Come on guys, he's certainly keen!
Here at Best For Film, we have a particular kind of hatred for 50 Shades of Grey but we really like Gus Van Sant – so we'll not know how to feel if Gus gets his wish. However, we will be intrigued as to if he can shoot THE EXACT SAME SEX SCENE a million times and still make it interesting and if he can include the words "inner goddess" without making us want to kill ourselves. Repeatedly.
About The Author