Hans Zimmer to score Man of Steel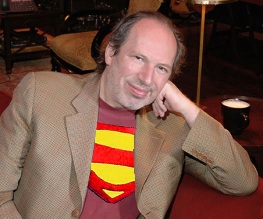 Not content with making the entire human race chant his job for him over on the set of The Dark Knight Rises, composer Hans Zimmer is reportedly taking on perhaps the only superhero more famous than the Caped Crusader – John Williams. No, wait, we mean Superman. Probably.
It's eighteen months since rumours about the Oscar-winning composer's possible involvement with $175m Superman reboot Man of Steel began to circulate, but at the time Zimmer – who has worked extensively with producer Christopher Nolan – explicitly denied any involvement. Speaking to The Hollywood Reporter, he had this to say:
"John Williams [is] the greatest living composer – full stop. And [the Superman theme] happens to be one of his greatest themes. So no. And I'm not thinking of rewriting Beethoven's ninth either. It just sounds like a thankless task, you know? So that's unequivocally a no."
Except that, apparently, it isn't. Nothing's confirmed yet, obviously, but with a year until release and hopefully a few bucks left from the $175m budget anything is possible – even the prospect of Zack Snyder abandoning his long-time composer Tyler Bates for a bigger name. We'll keep you posted.
Do you think you could come up with a new Superman theme? If you already have then tell your friends, not us.
About The Author