Hemingway & Fuentes finally sets sail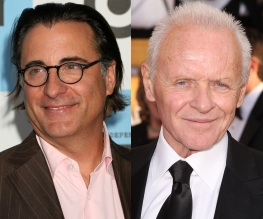 Andy Garcia's passion project Hemingway & Fuentes has at last secured funding and a start date.
The film, which will star Anthony Hopkins and Annette Bening alongside Garcia, is set to tell the story of Ernest Hemingway's abiding friendship with Gregorio Fuentes, the first mate of his fishing boat Pilar. OBVIOUSLY Ernest Hemingway had a fishing boat. How else would he get close enough to sharks to shoot them with a machine gun?
N.B. this is not hyperbole. Ernest Hemingway actually used to shoot sharks with a machine gun. He also cruised the waters around Florida during the Second World War with a high-tech radar set-up, planning to attack any U-Boats he encountered with a stash of hand grenades. LAD.
Anyway, Fuentes was the first mate on the Pilar and is popularly supposed to have been the inspiration for the title character in Hemingway's The Old Man and the Sea, although pretty much everyone relevant has refuted this. Gregorio Fuentes lived to 104, which is basically the whole argument in his favour. He still sounds like an interesting chap, though, so good for him. Garcia (who also wrote the script with Hemingway's niece Hilary) will play Fuentes in the film whilst Hopkins takes on the role of the ageing but still unremittingly badass Hemingway. Annette Bening is due to play the author's third wife Mary Welsh Hemingway.
Corey Stoll's stunning performance as Hemingway in Woody Allen's Midnight in Paris (above) will take some beating… but if anyone's up to the task it's Hopkins, who's currently starring as the eponymous director in Alfred Hitchcock and the Making of Psycho. Production on Hemingway & Fuentes is due to begin in January.
Have you ever shot a shark? Have you bollocks.
About The Author