Hobbit project given go-ahead!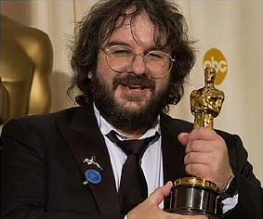 After an age of drama and speculation, eleventh-hour director Peter Jackson will finally be allowed to begin shooting Lord of the Rings prequel The Hobbit.
The project, which is due to begin filming in February of next year, has been dogged by drama, with original director Guillermo Del Toro abandoning the foldy canvas chair back in June after delays dragged on for months and then years.
More recently, rows over pay have led seven major actors' unions to advise their members not to take parts in the production, which is set to be shot in digital 3D and be split into two films. Whether they will each match the epic three hour instalments of LotR remains to be seen, but in our experience Peter Jackson loses all understanding of time as a linear progression once he starts filming undulating-hills-with-silhouetted-figures-journeying-bravely-in-the-face-of-unstoppable-evil shots. I refer you to this teaser poster, released almost four years ago:
There's going to be a whole lot of walking, isn't there? Walky walk walk. Still, at least now it looks like the film will be finished in our lifetimes…
About The Author