Metalocalypse – Season 2 – DVD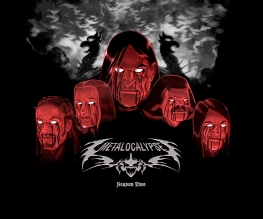 Imagine a universe where a death metal band are so popular that they can become the seventh largest economy on Earth. So loved and powerful are this band that if they endorse a product or service, all other brand competitors are quickly driven out of business. Organizations worldwide, ranging from governments to corporations, will bow to their every whim, granting them the ability to do anything they like – with no repercussions whatsoever – just in order to keep the money flowing. Well, my friend, that band are Dethklok and this is the twisted and hilarious world of Metalocalypse.
As well as being a band, Dethklok are – essentially – a group of idiots. Lead by vocalist Nathan Explosion, the remaining members are made up by Scandinavian guitarists, Skwisgaar Skwigelf and Toki Wartooth, nerd voiced bassist, William Murderface, and ginger haired drummer, Pickles, who sports a combover-dreadlock combo. Creating chaos wherever they go – but being too dense to realise this is anything but awesome – the band cause history's worst prison escape, have online pirates tortured by their own secret police force and put on live shows that kill countless fans. But Dethklok are also pioneers; concerned that their music is suffering from over-production ("it sounds like microchips"), they decide to record an album on pure water. It's just a shame that the factory required to do this destroys rainforests and melts livestock. And that the band get drunk and use the tracks to cook noodles.
And that's only this season's first five episodes! With the band jointly voiced by series creators, Brendon Small and Tommy Blacha, and with their every shambollic move closely monitored by a mysterious Illuminati-style group, known as The Tribunal – featuring vocal contributions from Mark Hamill, Victor Brandt and Malcolm McDowell – there's no shortage of talent on display here. Indeed, the fact that each episode contains at least one new growling metal tune (usually written and recorded by Small) is testimony to the effort put in.
Yet, possibly owing to the show's nature as a series of 10 minute shorts created to run as just one part of Adult Swim's dementedly brilliant schedule, Metalocalypse does become a touch repetitive if watched in large doses. Though there is consistently at least one big laugh out moment per episode (the President blasts his jaw off with a shotgun during a live address to apologise for Dethklok's lack of recent live shows; 10,000 baristas attempt to brew the world's largest cup of coffee in a dormant volcano), the band's idiocy – and the gore laden results – remain a pretty much constant joke. Keep viewing sessions shorter than thirty minutes, however, and there's plenty of fun to be had. So sign a pain waiver and strap on your rocking boots; Dethklok just became your new favourite band.
————–
Metalocalypse DVD Extras:
– Deleted Scenes
– Mermaid-er music video
– Taking Care of Business
– Klokateers: In Memoriam
– Bloodrocuted Music Video
————–
About The Author