Spielberg to direct Bee Gees Biopic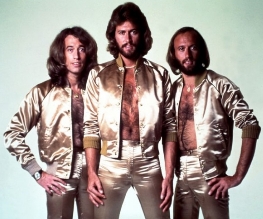 Regardless of whether you see the Bee Gees are slinky-hipped,disco funksters or lyrca-clad, high-pitched wailers, there is no denying that there is something about them. Try and find me anyone who doesn't get a tingling in their toes when they hear the opening bars to "Stayin' Alive". And don't try and pass it off as a spasm. It's the funk.
So it's no wonder that Steven Spielberg has realised the potential of the life story of the Gibb brothers from Manchester. And it'll be nice to give Robin and Barry something to do. The last I'd heard, they performed on Strictly Come Dancing and made a surprise appearance on American Idol. Not very funky.
But the biopic is looking to be pretty fancy with Robin claiming that the film is to be made by some "very important people", with the Bee Gee brothers being involved in the technical side.
There's no word about casting but I'm hoping for some treats. It's a shame John Travolta got fat as I would have liked to see him thrust his hips, disco-style, once more.
About The Author