Holmes 2: Richie Back to Baker Street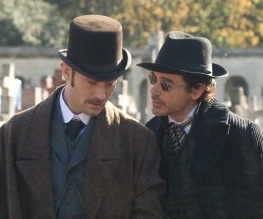 Joel Silver, who once had a bit part in Who Framed Roger Rabbit?, don'tcha know, has announced to the LA Times that Guy Ritchie set to be back for the second Sherlock Holmes film. With Robert Downey Jr. having recently dropped out of John Favreau's inelegantly-titled Cowboys And Aliens, it seems the Baker Street boys are having a sequel rushed through production.
Though nowhere near Avatar's record-breaking box office tally, Holmes has been doing pretty solid business at the box of office, nestling in Avatar's seven-foot, blue shadow at second in the Box Office charts. Enough, apparently, for Silver (whose Book of Eli and Ninja Assassin are currently hoiking in significantly less) and his studio chums to rally round a sequel turned over in record time.
There's already plot info in the works, and with Ritchie dropping his current project Lobo, we'd be highly surprised if we didn't see Homles 2 sometime in the latter half of the year…
What do you reckon? No place like Holmes, or is it time for Rikenbacher falls yet? Leave us your thoughts below.
About The Author