Horrible Histories film to hit screens in 2014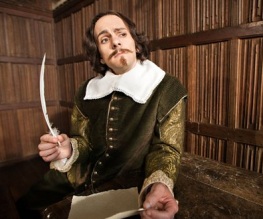 Mourning the demise of CBBC's Horrible Histories? Mourn no longer, for the team that brought you such gems as that Beyonce-esque tribute to Mary Seacole (sample lyric: I'm a nursing lady/ Put a splint on it/ Me see a wounded man/ better sprint to it) are moving only upwards to bigger and better things. Well, bigger, at the very least: their first full-length feature, BILL, seems set to arrive in cinemas sometime late next year.
Written by Laurence Rickard and Thick of It scribe Ben Willbond, both members of the original cast, BILL will tell the story of William Shakespeare. "Bill is a comedy adventure for all the family", say Rickard and Willbond. "We're playing with history, just as Shakespeare did, for the entertainment of the audience."
Well, historically speaking, there's quite a lot to play with within the life and times of Wm. Shakespeare (soldier of fortune? inky fingered scribbler? tutor, poacher, beggarman, thief?), but we feel pretty certain that this can only give Horrible Histories even more fodder for their foul, funny and yet historically accurate cannon.
"We like to think [Shakespeare]'d be okay with it", Rickard and Willbond said this week, "apart from the bit where he's dressed as a tomato." Oh. Still, the HH boys probably won't be putting in grubby puns about vaginas, so they've already got the moral high ground. Rickard and Willbond will be joined by the four remaining cast members Mathew Baynton, Simon Farnaby, Martha Howe-Douglas, and Jim Howick and as always, à la Python, the six will take on multiple roles.
Richard Bracewell, who will direct and produce, has developed the script alongside BBC Films. However, questions are already being asked as to its authenticity, with personages as varied and eminent as Francis Bacon, the Earl of Oxford and St John the Divine suggested as the true authors. How do you like that, Emmerich, you whoreson malt-horse drudge?
Would you watch a Horrible Histories film? Of course you would.
About The Author