Hugh Grant Is Back!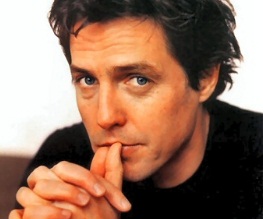 It's been two long years since we last saw the floppy-haired wonder on the big screen. In fact, the last time we saw him on screen was for Did You hear About The Morgans? and, if we're honest, that doesn't really count anyway.
However, it seems that the Notting Hill star will be making his hugh-ge comeback with a role in the upcoming film adaptation of David Mitchell's novel, Cloud Atlas. And, to make things even more momentous, he'll be joined by the likes of Tom Hanks, Halle Berry, Jim Broadbent, Ben Whishaw, Hugo Weaving, Jim Sturgess and Susan Sarandon. Hmm. We're never all that confident about all-star ensemble casts, but these are acting titans and we're pretty confident it's all going to be amazing. Please, please let it be amazing…
The story? From what we've read about the plot, it seems like it's going to be leaning on the side of insanity; in fact, Warner Bros have described it as "an epic story of humankind in which the actions and consequences of our lives impact one another throughout the past, present and future as one soul is shaped from a murderer into a savior and a single act of kindness ripples out for centuries to inspire a revolution."
Nothing complicated about that at all, is there?
Shooting begins this week so, from all of here at the BFF Team, welcome back Hugh, you lovable scoundrel!
About The Author