Hugh Laurie to join George Clooney in Tomorrowland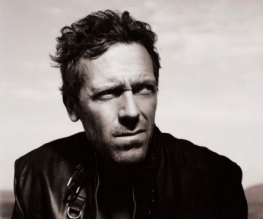 The secrecy surrounding Brad Bird's sci-fi movie Tomorrowland continues. Bird, who had a smash hit with his first live-action effort in 2011 with Mission Impossible – Ghost Protocol, is to direct the project for Disney from a script by Lost and Star Trek Into Darkness writer Damon Lindelof. Previously known as 1952, George Clooney has been attached to the film since November, and now it seems that Hugh Laurie is to join him.
Fresh from the conclusion of his eight-season effort with House since May, Laurie was recently in the independent flick The Oranges alongside Catherine Keener and Leighton Meester. We have no idea what sort of role he will play, and with Laurie it's quite difficult to guess. Will we have sombre and serious straight man, possibly with an American accent? Or a ludicrous German prone to cross-dressing, sense of humour failure and royal assassinations? Frankly, we'd all prefer the latter, but it's just not going to happen is it? Who knows. The movie is reported to be akin to Spielberg's Close Encounters of the Third Kind, so he could conceivably be playing an alien who dresses up as various humans. Speculation continues.
Tomorrowland has been set for release on December 19th, 2014.
What is this film going to be about? Is it time to bring back Blackadder? Would it be any good? LET US KNOW
About The Author