I am Number Four gets a new feature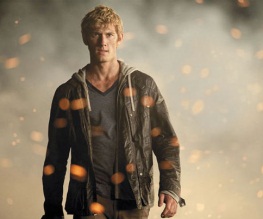 A new feature for I am Number Four has stowed away online, the clip showing some new footage from the upcoming thriller, intercut with discussions from its primary players.
Starring Alex Pettyfer, Timothy Olyphant and Teresa Palmer alongside Glee regular Diana Agron, I am Number Four follows nine intergalactic refugees as they are hunted down in sequence by their mortal enemies.
Suitably cheesy but with certifiably epic potential, the film is based on Jobie Hughes' novel of the same name. Touted, along with almost every other movie made in the last decade, as the next Harry Potter, the strong first trailer and the brief glimpses of action seen here mark Number Four out as an unusually serious contender.
From director D. J. Caruso (come on – it's no 'Brothers Strause'), I am Number Four is scheduled for release on February 18, 2011. Budgetted at a mere $60 million, and already garnering buzz, the film might actually break the one-movie curse that has stalked recent adaptations – I'm looking at you Alex Rider, Percy Jackson and Darren Shan – and actually lead to a franchise.
About The Author