My Afternoons with Margueritte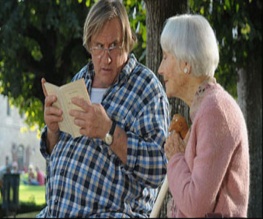 My Afternoons with Margueritte, or La tête en friche, is a French film from director Jean Becker which looks into the day to day life of seeming town simpleton Germain Chazes (Depardieu). His apparently unloving mother and his encounters with the townspeople of the unnamed town where he lives, highlight his shortcomings and quirky ways when dealing with others. But when Germain by chance meets Margueritte (Casadesus) and she begins to read to the gentle giant – a unique friendship begins to grow.
We are introduced to Germain as he begins his daily routine walking around town. Trudging around in his bright blue overalls, he visits various locations and these in turn show off his mannerisms. From the local pub and his friends, where they enjoy a laugh mostly generated through his social ignorance, to being somewhat ignored then accosted by his now elderly mother. Director Becker portrays a misunderstood man through these encounters and opts to use flashbacks for effect. They depict a young and chubby Germain invariably being scolded by others for his apparent "slowness". This technique is used to well as the scenes in the present that display a facet of Germain's nature is then linked through a flashback to his childhood, where, invariably he is being ridiculed for a similar event.
Having then established Germain in his ways, it's easy then to recognize what draws him to Margueritte when they meet in the park for the first time. Margueritte doesn't mock Germain the way some of the other characters do and is genuinely interested in the things he has to say. And after this first brief encounter, the pair begin to interact regularly with Margueritte reading to the otherwise wordly-disadvantaged Germain. These reading sessions become vital to the pair and as the story progresses it becomes clearer why they offer each other such respective fulfilment. Germain receives the affirmation and maternal interest that lacked in his childhood and for Margueritte it is similar due to her own family's absence in her life.
The word that springs to mind therefore most about My Afternoons with Margueritte is genuine. The story touches on real emotions that are universal and it's hard not to be drawn into the pair's friendship. Becker paces it with foresight and events feel like they occur naturally; so while events are easily predictable they don't lose their emotional value. And while Depardieu and Casadesus don't necessarily put in performances that amaze or shock, they are delightful in their own right and bring across the plights of the characters well. It's a simple yet elegant story, not overly complex or intricate like some blockbusters, with people that are engaging and interesting – making it an entertaining choice for anyone.
About The Author