Idris Elba to return to Asgard for Thor 2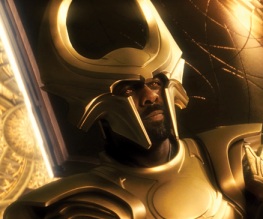 Man of the moment Idris Elba has confirmed that he will be reprising the character of Heimdall in Marvel's Thor 2.
White supremacist types were pitifully outraged when Elba was cast in Kenneth Branagh's spectacularly mad Thor, on the spurious basis that the Norse gods should be white. The fact that they're basically incestuous magical thugs who live on a different plane of reality and run around on rainbows is apparently not a problem for your basic Neo-Nazi, but the thought of Heimdall the Golden-Eyed (no, really. He can have golden eyes but not brown skin) being well-prepared for a sunny day is poison to them. Fucking hell.
Anyway, that's literally the whole news story. Once Elba has finished playing Nelson Mandela in Long Walk to Freedom he'll be putting the big horny helmet back on and kicking some more Frost Giant arse when shooting for Thor 2 begins in August. We love you, Idris!
About The Author