Iron Man 3 gets more promo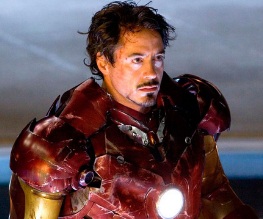 With the film's release imminent and the London premiere taking place on Thursday, you'd think Marvel would have had enough of teasing us with TV spots – but no. Another Iron Man 3 ad, which we believe racks the total up to 8, reminds us of exactly who Tony Stark (Robert Downey Jr) is facing off against this time round.
With virtually no new footage revealed, we hear big bad the Mandarin (Ben Kingsley) tell our hero that "Today is the first day of what's left of your life" before tearing his crib to smithereens. There's also that much-played slo-mo shot of Pepper and Tony careering backwards in the air as they feel the full force of the Mandarin's attack. Watch the new TV spot below:
When we say virtually no new footage, we actually mean there's a millisecond – a man gets thrown against the wall of Tony's jet by War Machine aka Rhodey (Don Cheadle). Still, it's nice to hear Downey Jr in badman mode when he tells Mandarin "it's just you and me". Handle your business, Tony. Iron Man 3 is out in the UK on April 25 and also stars Gwyneth Paltrow, Guy Pearce and Rebecca Hall.
Is this a bit too much promo for Iron Man 3, or would you love another trailer? Let us know below
About The Author