Iron Man 3 "not serious" claims Kevin Feige
Iron Man 3 looks like it might be the darkest installment in the franchise to date. At least that's what we took from the trailer. Marvel rep Kevin Feige has wriggled out of his hole to allay any fears that his Iron Man film will be too dark, saying that it won't be serious. This is at odds with everything we've seen of the film so far, which has already caused emotional turmoil for millions.
If you recall the Iron Man 3 trailer released a couple of weeks ago, we had Ben Kingsley looking morose as The Mandarin, Gwyneth Paltrow as Pepper Potts looking terrified, the cliff-side mansion being exploded, and Robert Downey Jr. dragging his dead Iron Man suit through a barren, harsh wasteland that reflected the void within his very soul. Maybe we just read a bit too much into the Iron Man 3 trailer.
As Kevin Feige said:
"It's not a serious movie, but we seriously dig into exploring more of Tony. The trick is just trying to make great movies. We try to make them all great, all different and all fresh. What you'll see in Iron Man 3 is some very unique directions that were taken."
The phrase "seriously dig into exploring more of Tony" reminds us of the Invincible Iron Man comic book story arc where Tony's Iron Man suit becomes sentient and falls in love with him. Remember that one? Then the suit gets all jealous, kidnaps Tony, ties him to a pine tree on a desert island and proceeds to torture a naked and bloody Stark until he admits that he loves the embittered and hormonal Iron Man. And then it got really weird.
"Surely Iron Man would never get that simultaneously stupid and dark!?" you ask?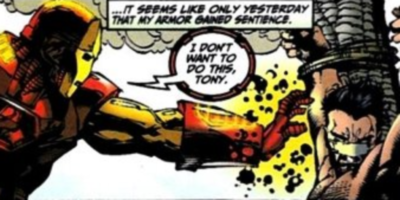 So it's all fun and games for Iron Man 3, then. No pathos for you!
What character developments will Tony Stark undergo in Iron Man 3? Would you rather see it gritty or jovial?
About The Author