Iron Man 3 unleashes four new stills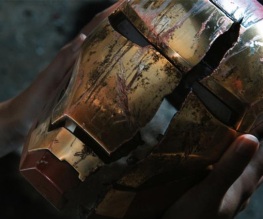 Iron Man 3, the next chapter in the Iron Man series, has today released some brand spanking new images. And, courtesy of the folks over at Marvel, WE'VE GOT THEM RIGHT HERE! DON'T TOUCH THEM, THEY'RE HOT! You may look at them though.
As we recently reported, Iron Man 3, despite its rather dark trailer – which sees Tony Stark's clifftop home having the shit blown out of it by Ben Kingsley – will not be too serious. We could have probably seen that coming, seeing how it's scripted and directed by Shane Black, the man behind the blackly comic screenplays for the Lethal Weapons, The Long Kiss Goodnight and Kiss Kiss Bang Bang. But enough of the friendly chit chat, let's have a good old butchers at these photos (click to go big).
First up, it's Tony Stark aka Iron Man aka Robert Downey Jr. He's wearing a long-sleeved t-shirt under a short sleeved t-shirt which is good for the winter months.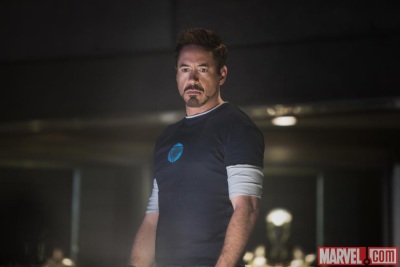 This is the actress Rebecca Hall, lying on the ground, seemingly injured. Word is that in Iron Man 3 Hall will be playing Maya Hansen, some sort of scientist or other. She doesn't look much like a scientist to us, though. Put your hair in a functional ponytail Maya Hansen! You're not going to be happy if your hair gets caught in the nuclear reactor.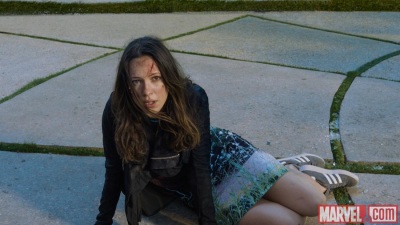 OH WHAT THE SHIT IS THIS. His helmet has got broken! Damn you and your helicopter missiles, Ben Kingsley. DAMN YOU! That was his best helmet.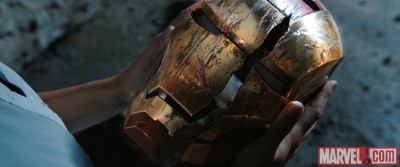 And here's that other one, Don Cheadle or the Iron Patriot or Iron Man 2 or the Iron Giant, one of those. Is it us, or is this armour FABULOUS? And so patriotic.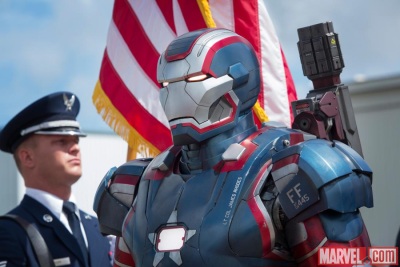 So there you are, that's your fill of Iron Man 3 stuff for today. ONLY KIDDING! It's Friday and on Friday you have to be nice to everyone, so here's the Iron Man 3 trailer for you as well:
Iron Man 3 will be out in the UK on the 26th April 2013. Excited?
About The Author