Oscar shortlist for Visual Effects revealed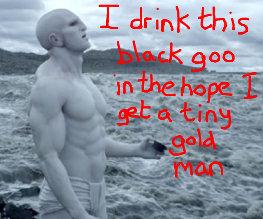 Oscars for Visual Effects have become absurdly competitive over the last 20 years, since the (sometimes unfortunate) rise of CGI. The Academy of Motion Picture Arts and Sciences have revealed the shortlist for this year's big hitters vying for the Top 5 spots for a shot at the Oscar. The distinction between what constitutes the best for visual effects is rather esoteric, so any one of these could potentially make it to the final five.
Here are the possible Oscar winners, with the sarcastic comments you've come to expect from us here at Best For Film;
The Amazing Spider-Man (the Goombas from the Super Mario Bros. film was more convincing)
Cloud Atlas (racist Korean Hugo Weaving, anyone?)
The Dark Knight Rises (Anne Hathaway as a sexy maid and a sexy kitty. This has to win for sure)
The Hobbit: An Unexpected Journey (has anyone actually seen this yet?)
John Carter (lol)
Life of Pi (water effects reminiscent of Wave Race 64)
Marvel Avengers Assemble (those bug people at the end looked naff)
Prometheus (space abortion)
Skyfall (that MI6 explosion looked dodgy has hell)
Snow White and the Huntsman (they stole the troll from Harry Potter and the Philosopher's Stone)
Our money for the Oscar is Prometheus. Say what you will about the crappy story, script, characters, science or (in all likelihood) catering services on set, the visual effects were stunning. Big white dudes! Alien mouth rape! Yay!
Who do you think will win the Oscar for Visual Effects? Are there any not on the shortlist that deserves to have a shot at the Oscar?
About The Author