J.J. Abrams directing Star Trek Sequel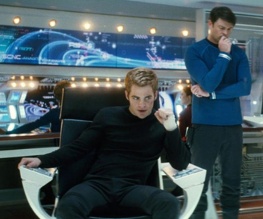 After worrying delays in production (the sequel was set for release this June) it's a relief to hear that an official announcement has been made, declaring that J.J. Abrams will indeed be directing the follow-up film to Star Trek. The entire project is finally running smoothly again, with screenplay writers Bob Orci, Alex Kurtzman and Damon Lindelof set to complete the sci-fi script at the end of this month, with filming starting in the new year. Therefore a 2012 release date is definitely off the table, with Paramount giving the original date of June 29th 2012 to G.I. Joe 2: Retaliation(why?!).
Abrams is having a bit of a sequel frenzy at the moment; having signed on to produce the Cloverfield sequel (set for an significantly less shaky directing style, complete with a 2014 release), and Mission: Impossible – Ghost Protocol (out December 26th this year). In a land of anticlimactic sequels, we can only hope that Captain Kirk and the gang once again keep us hanging off our own wheelie chairs in a whirlwind of action, catch phrases and pointy ears.
About The Author