Jack Black and Jane Lynch join new Muppet Movie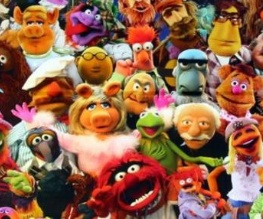 We couldn't help but cringe when we heard that the latest Muppet film had been ambitiously named The Greatest Muppet Movie Ever Made, but to be honest the more we hear about it, the more we're inclined to trust in the title. The list of stars lining up to take part in the latest muppet extravaganza is rather mind-blowing, and they've just added Jane Lynch and Jack Black to a team that already included Paul Rudd, Danny Trejo, Eric Stonestreet, John Krasinski, Ed Helms and Lady Gaga.
So far we know that Jason Segel has taken a starring role, with Zach Galifianakis of The Hangover and Due Date fame taking on the role of "Hobo Jo". Jane Lynch has been confirmed as a bad-ass prison guard and Lady Gaga will be playing… herself. Obviously. Though to be honest she blends in so well with the puppets we'll be hard pressed to tell what's synthetic felt creation and what's performing artist.
Anyhoo, the point is, every day this cast gets more and more epic, and we can't wait to fill in the details. Watch this space.
About The Author