James Cameron 'almost there' with Avatar 2 and Avatar 3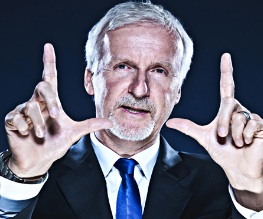 James Cameron has almost completed his mammoth mission to bring Dances with Smurfs – sorry, Avatar 2 and 3 to the big screen, and the process sounds a bit worrying. The director said he is "living in Pandora" until he gets the script for both follow-ups finished.
Cameron is going to be doing nothing but Avatar from now on, and he's been writing the new scripts from scratch. This is a task that he reckons is harder than making The Lord of the Rings: The Two Towers AND Return of the King. Cameron revealed he told Peter Jackson: "You had it easy, dude. You had the books when you did the second and third Lord of the Rings. I have to create my own books in my head and extract a script from it. I'm deep into it and I'm living in Pandora right now. There is that start-up torque where you feel it's coming to you. Then you build up momentum. That's when it gets fun."
Those who are either dreading another Avatar film or are concerned about the mental state of James Cameron, hold on to your hats. It gets worse: "The characters talk, and it's writing itself. I'm almost there right now. It's building fast. When you live in a special world like Pandora, you have to live in that world."
The release dates for the two Avatar sequels are yet to be confirmed. There is currently no confirmation on whether the Avatar saga will run into a fourth film. Until then, someone should really go and check on James Cameron. See if he's getting enough to eat.
About The Author