James Cameron to partner with Cirque Du Soleil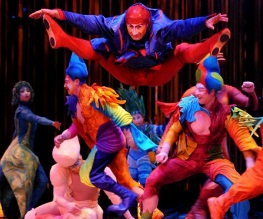 Say what you like about James Cameron, the man just really does like making films in 3D. And is there better 3D fodder than lots of small gymnasts with sparkly costumes? Of course not.
Cameron has revealed that one of his upcoming projects is a partnership Narnia director Andrew Adamson and Cirque Du Soleil; the universally acclaimed circus troupe famous for combining mesmerising stage shows with sumptuous costumes, mad music and death defying, extremely bendy feats. A good match? We reckon so.
There hasn't been a lot confirmed on the plot front, but the studio has helpfully said the following:
"There are worlds beyond dreams, illusion and imagination, where human beings are capable of anything. Where love rules, and everything your heart yearns for is beautifully, incredibly real."
Right. Good. Thankfully Cameron himself has been slightly more chatty:
"Shooting with the Cirque du Soleil team has been one of the most enjoyable experiences of my professional life. For years I've been a fan, both of their celebration of human physical performance and for their wild imagination in the designs of characters, costumes, music and unparalleled theatrical staging. They've built a global brand, and it's a unique opportunity for me, and my 3D partner Vince Pace, to bring the Cirque du Soleil experience to a world wide audience through the magic of 3D cinema. The images we've been shooting are stunning, and I know Andrew Adamson will weave them into a transporting, dreamlike narrative which will mesmerize audiences of all ages, around the world."
We have to say, this does sound like a visually stunning project, even if the plot turns out to be madder than a bag of giraffes. More news on this as we get it.
About The Author