She's Out Of My League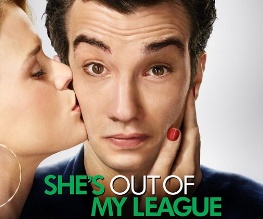 Self-doubt is hard-wired into the British psyche at birth. While Americans seem to exist in a bubble of self-confidence that borders on arrogance, we don't just hide our lights under a bushel, we extinguish them entirely. Always expect the worst, that's Britannia's motto, and long may it reign. Jim Field Smith's effervescent romantic comedy strikes a chord with insecure types everywhere, centring on a lovable airport security guard, whose low self-esteem almost wrecks the best relationship he might ever have. It's a shame that this formula has been done to death by Judd Apatow and crew, as this is a comedy that has great potential, but is let down by the plot-by-numbers.
Out Of My League: firmly in a comfort zone
[FLOWPLAYER=http://uk.clip-1.filmtrailer.com/3820_10306_a_3.flv,275,180]
In She's Out Of My League, Kirk Kettner (Jay Baruchel) is cruelly dumped by his girlfriend Marnie (Lindsay Sloane). To rub salt into the wounds, his parents (Adam LeFevre, Debra Jo Rupp) have adopted Marnie like a surrogate daughter so she is always around the house with her new boyfriend in tow. Kirk desperately wants to win her back but best friend Stainer (TJ Miller) strongly counsels against it, having always loathed Marnie.
Somehow, Kirk ends up on a date with Molly (Alice Eve), a beautiful passenger who passes through his security gate at Pittsburgh airport. She seems keen, much to the bemusement of Kirk's jealous buddies, Stainer and Jack (Mike Vogel), who rate their man as a five maybe six on the eligibility scale and Molly a perfect 10. "If someone really loves you, then you're a 10," argues fellow security guard Devon (Nate Torrence), a hopeless romantic who is obsessed with Disney animated films. Molly's sardonic friend Patty (Krysten Ritter) also feels that Kirk doesn't meet the grade and tries to poison Molly's ear, to no avail. As Kirk and Molly grow closer, he takes her home to meet his loved ones. "Twenty minutes with your family and she'll file for a restraining order," guffaws Stainer. Perhaps.
It's not stealing, it's just borrowing…
Though not exactly a stand-out comedy – funny looking guy gets with attractive girl? By thunder, that's original – She's Out Of My League is still an enjoyable genre piece that relies on our natural empathy for Baruchel's nice guy as he wrestles with myriad insecurities and derision from the people who should be bolstering his self-confidence. Thankfully, his likeable performance anchors the picture and Eve is very sweet object for the Kirk's affections, proving – surprise surprise – every bit as vulnerable and insecure as her suitor. The comedy holds its own against the typical storyline, though admittedly it borrows heavily from comedies such as 40 Year Old Virgin and Knocked Up. The haphazard journey of self-discovery culminates in some bruising home truths at the airport, in an ending taken almost word for word from Love, Actually. But seriously, it's a film called "She's Out Of My League" – were you expecting Shakespeare? All in all, it's nothing we haven't seen before, but still good fun.
What did you make of She's Out Of My League? Let us know…
About The Author