James Corden On His Way To Hollywood.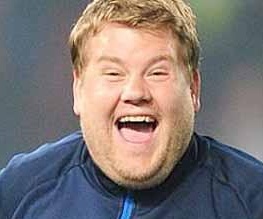 The rave reviews James Corden has received for his lead role in West End stage hit One Man, Two Guvnors has not only rehabilitated his once sinking reputation, it may well have bagged him a new career in Hollywood. After watching Corden on the boards in the National Theatre, Harvey Weinstein was so impressed he approached Corden directly and demanded he come work with him in LA.
Reportedly the former Miramax warlord and current despot of The Weinstein Company invited Corden to a champagne breakfast where he outlined two major comedic projects he has in mind for the globular funnyman which he wants to put into action as soon as the Broadway run of One Man, Two Guvnors (which begins in April) finishes up. Harv' does have one reservation, however. He wants to see how American audiences react to Corden on stage before fully committing his time and money to the star.
Whether you like or absolutely fucking despise Corden it is always interesting to see what the Yankee-doodles make of a British star, particularly one whose shtick is as self consciously "British" as Corden. These things can, of course, go either way. Just look at the successive kickings Russell Brand took for his performances in The Tempest, Hop and the unwanted Arthur remake.
We wish Corden the best of luck State-side, partly because he really is a pretty talented performer given the right material but mainly because it will give him less time to star in stale panel shows and slow-witted sketch programmes on these shores.
About The Author