New trailer for Abraham Lincoln: Vampire Hunter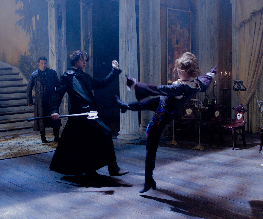 It might be that Pride And Prejudice And Zombies is stuck in pre-production hell, but it looks like Abraham Lincoln: Vampire Hunter – also based on a Seth Grahame-Smith novel – is ready to hit our screens. With a massive 3D axe.
Promising to explore the secret life of one of America's most famous presidents, by all accounts it looks like Abraham Lincoln: Vampire Hunter is going to exactly what it says on the tin: show an iconic leader beating 12 kinds of shit out of an army of vampires. It looks brilliant, basically.
We LOVE how serious the tone is – who needs jovial asides or undercutting quips when you've got the Lincoln man himself storming a troop of the undead? Dominic Cooper waxing lyrical over the top, dark silhouettes, a thundering soundtrack and what looks to be some seriously fantastic fight sequences – our excitement about this film just went up about four-score percent. It's actually pretty refreshing to see such an absurd topic dealt with in such a slick and serious manner, but then perhaps it was silly of us ever to doubt director Timur Bekmambeto, maker of Wanted. With Tim Burton on producing duty, and Benjamin Walker as the visionary vampire-thwacker himself, we cannot wait to see more. BRING THE PAIN, SIR!
About The Author