Jamie Foxx in first look at President of White House Down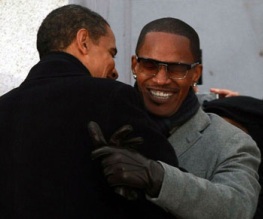 Jamie Foxx is now the President. Not content with the dangerous levels of awesome emanating from Django Unchained's pre-release underground safety chamber, Foxx will star as Commander in Chief in White House Down, a new thriller directed by Roland Emmerich.
Emmerich may not be the most adroit handler of hyperkinetic 21st century action, preferring chunky CGI and explosions, but the man knows how to fuck up the White House. Those descending on No. 1600 are aliens of a different shade this time round, being a group of terrorists who bought Foxx's second album and are NOT happy with the direction he took. Or something. Look, it's Air Force One except in a house and Han Solo is played by Ray Charles. It's going to be amazing. 90s cheese merchant Emmerich tweeted this behind-the-scenes pic: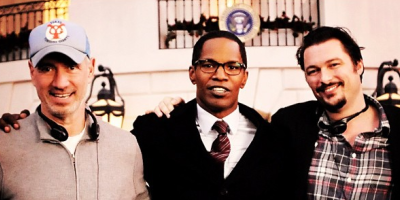 Along with lovable lummox Channing Tatum, Maggie Gyllenhaal and James Woods are co-starring. Given Foxx and Tatum's considerable comedy chops, here's hoping for a few "Welcome to Earth" moments amidst the action. Tatum plays a secret service goon tasked with saving Foxx's bacon when (we presume) James Woods turns up on an unscheduled tour.
Django Unchained isn't even with us yet and we're already chomping at the bit for Foxx's turn as the POTUS. While we wait, it's well known that he and actual main man Barack Obama are bros, so go ahead and melt in front of this pic of life and art imitating each other.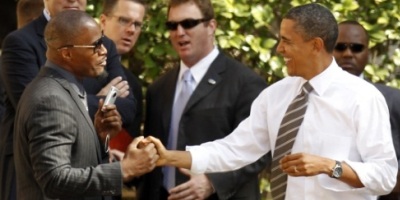 About The Author