Sin City 2: A movie role to kill for?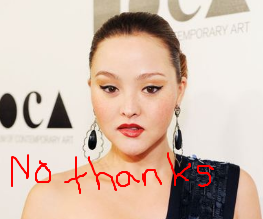 Sin City: A Dame to Kill For has just begun shooting and, as such, a plethora of casting announcements have been made. The follow-up to 2005's noir action film, the sequel follows the denizens of Sin City as they attempt to cope with the tragic and disturbing (and totally fucking rad) events of the first film. Sin City: A Dame to Kill For is set to reprise many characters and the interconnected-stories structure of the original.
A Dame to Kill For is based on Frank Miller's story Just Another Saturday Night, with both Frank Miller and Robert Rodriguez (currently wrapping up Machete Kills) set to return to the film's helm. Also returning to the set of Sin City: A Dame to Kill For are Mickey Rourke as Marv (only slightly more ugly than the character he plays), Rosario Dawson as Gail (fantastic, despite her non-symmetrical nostril sizes), Jamie Chung as Goldie's twin sister Wendy (famous for White Chicks and Cheaper by the Dozen 2) and Jessica Alba as child-turned-sexy-pole-dancer Nancy (who really should be working at Subway or something considering her career).
There are still roles yet to be cast, including the character Dwight, last seen snogging Rosario Dawson. Clive Owen has stated that he has not yet been signed up for a return as Dwight, but it would be ludicrous for the Sin City: A Dame to Kill For casting agent not to reprise Clive Owen with his sullen and grunting presence.
Not returning will be Devon Aoki as Miho the Japanese hooker-assassin, although nothing has been said regarding why. Perhaps her odd little face has finally collapsed in on itself. Regardless, the role has been filled by the lovely Jaime King (The Hangover: Part II and the upcoming The Man with the Iron Fists) who has a slightly better track record than Devon Aoki, who's last major role was as Kasumi in DOA: Dead or Alive (lol).
Despite Sin City: A Dame to Kill For being mostly populated with B-movie actors (no offence, Mickey Rourke), the combination worked wonders last time. Hopefully the Frank Miller/Robert Rodriguez combination can bring back some of the magic of the original Sin City.
Here's the teaser poster, click to embiggen: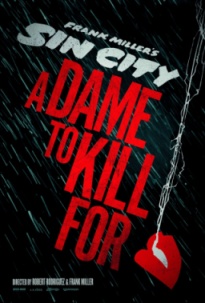 Ready to return to the dark and seedy underbelly of Sin City? Or will it just not be the same without glowing yellow pedophiles?
About The Author