Jennifer Lawrence among Golden Globes presenters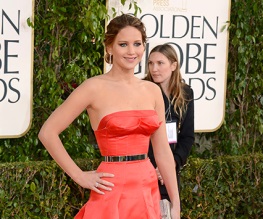 Bring on the Globes! The Hollywood Foreign Press Association has just announced that come this Sunday's awards ceremony, we'll also see a bevy of high-profile names such as Kevin Bacon, Julie Bowen, Laura Dern, Robert Downey Jr., Jimmy Fallon, Colin Farrell, Mila Kunis, Jennifer Lawrence, Uma Thurman and Reese Witherspoon gracing the stage as individual presenters. The brilliant Tina Fey and Amy Poehler are returning as hosts after a phenomenal performance at last year's Globes.
Broadcast live on NBC and reaching over 192 countries eventually, the Golden Globes act as something of a barometer for the Oscars, giving a rough gauge as to who and what might score big come March 2nd. On the Drama side of things we have Steve McQueen's Twelve Years a Slave with Chiwetel Ejiofor going head to head with the likes of Tom Hanks as the gritty real-life Captain Phillips, Judi Dench in the bittersweet tale of Philomena, Ron Howard's Formula One biopic Rush and the intense space odyssey, Gravity, featuring Sandra Bullock and George Clooney. David O'Russell's stellar cast of Christian Bale, Amy Adams, Jennifer Lawrence and Bradley Cooper in American Hustle jostles for attention in the company of Martin Scorsese and Leonardo Di Caprio's The Wolf of Wall Street, Joel & Ethan Coel's foray into the folk music scene with Inside Llewyn Davis, the family affair of Nebraska by Alexander Payne and Spike Jonze's sci-fi dramedy starring Joaquin Phoenix, Her. With a list like this, aren't you glad you don't have to be the one to pick?
About The Author