Jennifer Lawrence for 'Ends Of The Earth'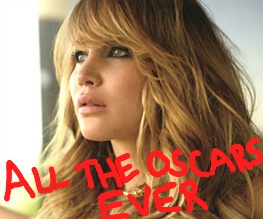 You might have thought Jennifer Lawrence was too busy bagging 'Best Actress' awards to be planning any further film appearances, but the actress has just been confirmed for upcoming film project, Ends Of The Earth. And, clearly on a dizzy quest for yet more Oscar nominations, the film will see her rejoin her Silver Linings Playbook director, David O. Russell. And Argo writer Chris Terrio. And probably someone else that bloody loves Academy Awards too, like… like John Williams. Or Meryl bloody Streep.
Producers Todd Black and Steve Tisch released a statement announcing the happy union of Oscar fodder / award-winning talent, explaining that it was Jennifer's staggeringly good performance in Silver Linings Playbook that sealed the deal for them:
"Jennifer was basically asked to play 4 personalities [in Silver Linings Playbook]… and did them all brilliantly. After seeing that performance we knew we had our anchor for Ends Of The Earth."
"Her dedication to the craft and all those who work with her is inspiring and if she is the future of our business we are certainly in good hands."
Whatever. We think Jennifer Lawrence just loves working with director David O. Russell – this will be their THIRD collaboration together, as she's already signed up to work on his upcoming crime drama – with Bradley Cooper, no less – which is currently known by the working title of American Bullshit. Throw Amy Adams and Christian Bale into the mix (what's that? MORE Oscar nominees?) and you have a recipe for guaranteed golden statuettes every which way you turn.
Which Jennifer Lawrence and David O. Russell collaboration are YOU most looking forward to? Let us know below!
About The Author