Hugh Grant and Marc Lawrence continue their love affair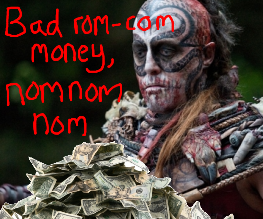 Hugh Grant has now appeared in 3 films written by rom-com writer Marc Lawrence, and is confirmed to be starring in a forth. This is remarkable considering no one actually wants another Hugh Grant romance, but the man needs money, dammit! Currently in talks to allow themselves to be subjected to Hugh Grant (a nasty proposition, we think you'll agree) is Marisa Tomei, who has taken that turn in her career where she's taking crazy-slut roles. Poor, poor Marisa.
The previous collaborations between Marc Lawrence and Hugh Grant have not been entirely… 'within the expiration date'. By that we mean that they were mostly sour. Two Weeks Notice, where Hugh Grant romanced Sandra Bullock was acceptable. Music and Lyrics where Hugh Grant romanced Drew Barrymore was aggressively mediocre. Did You Hear About the Morgans? where Hugh Grant romanced Sarah Jessica Parker, has a 12% on Rotten Tomatoes. 'Nuff said.
Although Marisa Tomei is a definite improvement on Sarah Jessica Parker, we can't help but feel that another Marc Lawrence rom-com is probably the wrong move for Hugh Grant's career, especially since he has been taking more interesting roles lately, such as in Cloud Atlas and The Pirates! In an Adventure with Scientists
Expect to see Untitled Marc Lawrence/Hugh Grant Comedy (that's actually how it's listed on IMDb) enter production in 2013.
What's your favourite Hugh Grant flick? Love, Actually? About a Boy? Let us know in the comments below!
About The Author