Jessica Chastain to play Princess Di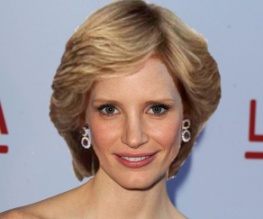 Oliver Hirschbiegel (Downfall) is set to direct Jessica Chastain as the People's Princess in his upcoming biopic, Caught in Flight. Word is that the plot will focus on Diana's affair with a heart surgeon, Dr Hasnat Kahn (who? What? When did this happen?) which probably means there will be some kind of tagline about "Giving away your heart" or something to that effect. FINGERS CROSSED.
According to well-trusted source Paul Burrell, the affair between Diana and Khan lasted from 1995 to 1997, and Steven Jeffreys' script apparently depicts the princess as a 'damaged person who stalks the doctor after he ends the affair'. Oooh! That sounds offensive!
Chastain herself has had a pretty good year, starring in The Debt and The Tree of Life alongside the upcoming films Coriolanus and Take Shelter. Seeing as Chastain has made her mark as an intelligent actress who makes good choices in her career, it will be nice to see her starring in a good old run of the mill biopic, especially if she's playing a crazy stalker.
But who knows? She could become the new Helen Mirren. WAIT! Didn't she play the young Helen Mirren in The Debt? WEIRD GUYS THAT'S REALLY WEIRD. Watch your back, Helen. And for god's sake hide your bunnies.
About The Author