Kristin Scott Thomas joins Nicolas Winding Refn's Only God Forgives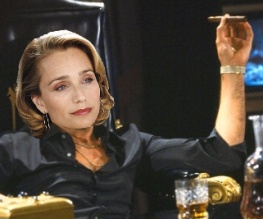 Kristin Scott Thomas is set to join Drive director Nicolas Winding Refn's new film Only God Forgives, a gangster thriller set in Bangkok.
The Oscar-nominated actress will play a mafia boss who travels to Thailand to collect the body of her murdered drug-smuggler son. Yep, we're talking about the same Kristin Scott Thomas.
Ryan Gosling is set to star, possibly alongside Luke Evans (who was originally in the lead role but had to bow out due to his Hobbit commitments). The most recent synopsis is more than a little confusing, but we suspect that Ryan will be playing Julian whilst Luke takes on the role of Billy:
Julian, an Englishman living in Bangkok, is a respected figure in the criminal underworld. He and his brother Billy run a Thai boxing club which is in fact a front for smuggling drugs to London. When Billy is murdered, their mother Jenna arrives from London to bring back the body. Jenna is herself the head of a powerful criminal organization and is used to getting exactly what she wants. She sets out to settle the score along a bloody path of rage, betrayal, and vengeance, hurtling toward an ultimate confrontation and the possibility of redemption.
KST is Jenna, obviously. And she'll be amazing. How has it taken the world so long to notice that Kristin Scott Thomas = icy composure + steely nerve + good hair = Mafia boss? We're psyched.
About The Author