JFK drama Parkland gets Paul Giamatti and Billy Bob Thornton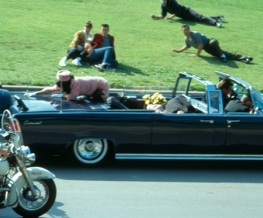 It's getting rather Oscar-y over at Parkland, the forthcoming Tom Hanks-produced drama centering on JFK's assassination and the chaotic events at the titular hospital, where he was pronounced dead. Alongside Paul Giamatti and Billy Bob Thornton, Animal Kingdom star (and fellow Oscar nominee) Jacki Weaver is on board. The project won't arrive until sometime next year, by which time Hanks and co will surely be hoping people are ready for another Presidential drama after Spielberg's imminent award dreadnought Lincoln.
Adapted from Reclaiming History, Vincent Bugliosi's meticulous tome of an investigation, Parkland will focus on the immediate aftermath of the shooting. Following the drama to the hospital, it intends to tread a different path to Oliver Stone's considerably looser muckraker, JFK.
Reportedly an ensemble piece, let's hope Parkland has a little more meat on the bone than Emilio Estevez's muddled 2006 Kennedy mosaic, Bobby. Whereas Bobby was a largely fictionalized account of the senator's last hours, Parkland's source material is a 1,632-page doorstop, so there shouldn't be too much cause for worry.
Parkland will be the directorial debut of screenwriter Peter Landsman, who previously penned sex-trafficking drama Trade.
About The Author