Anne Hathaway talks Catwoman spin-off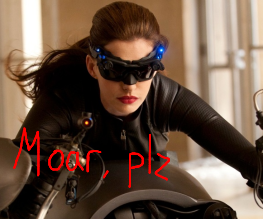 Anne Hathaway was one of the best things about The Dark Knight Rises. Her Catwoman surpassed even Michelle Pfeiffer's in Batman Returns for many people, and it's no surprise that whispers of an Anne Hathaway Catwoman spin-off have been fluttering around Hollywood.
As good an actress as Anne Hathaway is, we can't help but remember the last time they tried to make a Catwoman stand-alone film. It did not go well. Starring Halle Berry and Sharon Stone, and directed by a man known only as "Pitof", this iteration of Catwoman was both phenomenally bad and unintentionally hilarious. It really is something to behold. It's so bad that it seems artistic.
Hopefully Anne Hathaway's Catwoman wouldn't have to resort to being complete kitty litter to be entertaining. On the possibility of returning to the thieving sex kitten, Anne Hathaway said:
"No one's talked to me about it. I would love it. I was at a press [conference] the other night for a screening of The Dark Knight Rises, and the moderator asked me, 'So what was it like to say goodbye to the character?' And I burst into tears, because I miss her."
We miss her too, Anne Hathaway. We miss her too.
What are the odds that Sony would actually let Anne Hathaway give another Catwoman movie a shot? Is the name tainted now?
About The Author