Jolie Sparkles at Salt Premiere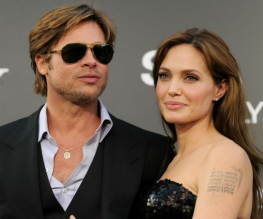 The premiere of Angelina Jolie's latest film Salt took place at the Grauman's Chinese Theatre in Hollywood last night. The script was originally written for a male lead with Tom Cruise in mind but was altered for Jolie when he turned down the part. The film has been directed by Phillip Noyce.
In this action-thriller, Jolie plays CIA officer Evelyn Salt, who is accused of being a Russian spy plotting to assassinate the President of the United States. She goes on the run to clear her name, using her skills and years of experience to evade capture. The story is particularly timely due to the recent story of British husband Alex Chapman, whose wife had been conditioned as a spy by Russian KGB officers.
The focus of the film however was stolen last night by the united appearance of on-off couple, Brad and Angelina. Leaving their six kiddy-winks at home, they stunned on the red carpet. Ange wore a black, sequin mini-dress designed by Armani and talk surrounded Brad's shedding of his rugged beard! Oh, the times we live in.
Salt, which also stars Liev Schrieber and Chiwetel Ejiofor, is to be released on 23rd July.
About The Author