Joss Whedon to Direct The Avengers Film?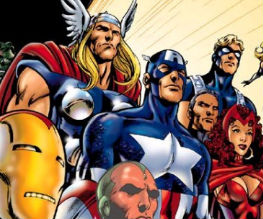 It's a prospect that will have comic book fans salivating everywhere: Buffy the Vampire Slayer creator and geek god Joss Whedon is in final talks to direct Marvel's The Avengers. This is a superhero film of such potential epicness it's making us here at Best For Film feel very dizzy. In a good way. The Avengers are a Marvel Comics superhero team, and the film would boast a cast of heroes from other existing or upcoming Marvel films, including Iron Man (Robert Downey Jr), Captain America (Chris Evans), Thor (Chris Hemsworth), Nick Fury (Samuel L Jackson) and maybe even the Incredible Hulk (Edward Norton).
Whedon has proven he's got the chops to handle the Marvel Universe before, with his meteorically successful run on the Astonishing X-Men comic book and Runaways, but some might argue he's yet to prove his feature film credentials. His only movie so far is Serenity, and although that movie was pretty awesome, some fans may argue that a director with a bit more experience is needed to helm a project as vast as The Avengers.
Do you think Whedon has what it takes to assemble the Avengers film? Let us know below!
About The Author