Jumanji remake finds a writer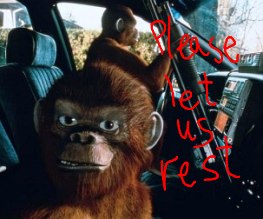 It's been a little while since we heard anything about the Jumanji remake, which has largely led us to ignore it and pretend that we live in a world where the words 'Jumanji' and 'remake' only meet in the entirely acceptable sentence 'Nobody would ever remake Jumanji; it's a 90s family classic with absolutely no room for improvement'. Unfortunately, we actually live in a world where people say things like 'Hello Lindsay Lohan, would you like to be Elizabeth Taylor?' and 'No, Rolf Harris, you go right ahead and nonce those children'.
Anyway, plans to drag Alan Parrish out of his happy and Van Pelt-free retirement appear to be back on schedule with the news that a writer has been found for Jumanji 2014: The Box is Back or whatever the fuck it's going to be called. The universally underwhelming Zach Helm, best known for writing and directing Mr Magorium's Wonder Emporium, has been attached to the project. Just take a second to digest that – the man who wrote Dustin Hoffman a character who owns a pet zebra called Mortimer is being allowed to write another film. Except it isn't just another film, is it? It's Jumanji, one of the few non-Disney and non-shit points of cinematic reference for 90s kids, and they're going to ruin it. He is going to ruin it. Zach Helm, this is worse than that time (yesterday) when John Travolta and Olivia Newton-John tried to stab us in the Christmas. YOU CAN'T TOUCH JUMANJI! IT's JUMANJI!
Still, Jumanji fans of the world need not fear – we're quietly confident that Helm's diseased fantasy will never make it to the big screen. How can we be so sure? Well, let's just say we've engaged the services of a certain firearms expert with an excellent line in taking out white elephants. A hunter from the deepest wild… makes you feel just like a child.
Watch your back, Zach.
How do you feel about the Jumanji remake? Tell us below, in rhyming couplets.
About The Author