Kaya Scodelario replacing Rooney Mara in film with long title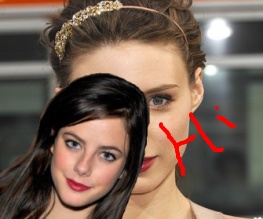 It's a funny thing. The Girl With The Dragon Tattoo hasn't even come out yet and already Rooney Mara is a huge sensation – despite being most famous for her small, albeit important, role in Fincher's The Social Network. Everyone's like "Ooooooh Rooney, check you girl", including the people behind these genius little films.
But it looks like Rooney's not everyone's cup of tea, seeing how she has been replaced by Kaya Scodelario on a project to which she had been attached since February. The film, entitled Emanuel and the Truth About Fishes tells the story of a young woman who becomes caught up in the weird life of her next door neighbour, who happens to resemble the girl's dead mother. Scodelario was most recently seen as the grown-up Cathy in Andrea Arnold's Wuthering Heights and following her impressive performance, we expect good things from the Skins veteran.
No one's said why Mara has left the project yet, so it's probably because she's been offered five thousand other roles. She's so hot right now she's probably starring in a biopic of HER OWN LIFE.
About The Author