Keira Knightley is not marrying R-Patz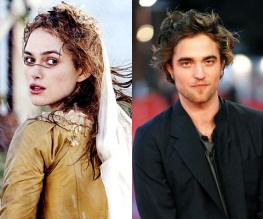 Ah, only in the crazy world of Hollywood could this news be conjured up. Sadly, it is film casting news, not relationship gossip. It seems Keira Knightley has dropped out of David Cronenberg's upcoming adaptation Cosmopolis, due to star Robert Pattinson. This is supposed to start filming in March, which doesn't give Cronenberg much time to find an adequate replacement for Knightley. Form an orderly queue ladies.
Before you get too excited, the project does seem to have doomed written all over it. Firstly Colin Farrell dropped out, then Marion Cotillard decided to go and get pregnant (how bloody inconvenient) which is how we ended up with Pattinson married to Knightley, or not as the case may be.
If you still care about this (I'm talking to the R-Patz fans out there) then the story is about a young billionaire trying to get from one side of Manhattan to the other to get a hair cut. Huh. Although apparently he 'has the adventure of a lifetime'. Who knew haircuts could be so exciting.
About The Author