Kevin Smith praises Affleck's Batsuit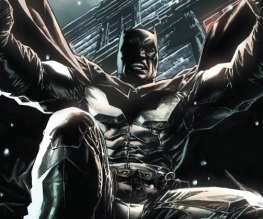 Cult director Kevin Smith (who we had to unfollow on Twitter because he wouldn't shut up about anal) has taken to his podcast to rave about the brand new Batsuit that Ben Affleck will be sporting in Man of Steel 2. Or whatever it's going to be called. Men of Steel and Bats? Batman and also Steel (Super) Man? BatSteel?
Speaking live to Ralph Garmen, Smith (who was commissioned to write a Superman film in the mid-nineties) revealed that Snyder showed him a backstage photo of the suited-up Affleck at a Man of Steel Q&A over the weekend. Here's the quote (as harvested by someone else; we don't have time to listen to podcasts):
"I saw the Batman costume. More than that, I saw a picture of him in the costume. Now I don't want to give anything away, because that's up to them and stuff, but I'm going to say this — I instantly bear hugged him. You have not seen this costume, in a movie, on film before. And for a comic book fan, it was mind bending." Comics superfan Smith also revealed that "there wasn't a single fuckin' nipple on this suit", which is excellent news (remember Clooney's Nipsuit?).
Affleck has previously cited Snyder's original approach to the character of the Dark Knight as being what attracted him to the role, and Smith seems to be confirming that this Batman is going in a completely new direction. Now it's over to the legions of mental DC fans to work out which of the approximately forty thousand Batsuits in the Batman canon is being ripped off for the new film. We've seen a few people suggesting that the relatively obscure suit from Batman: Noël, featuring a less body-armoury vibe and a much more streamlined cowl, could be on the cards, so we're adding fuel to the fire by including its picture above. If you're a nerd with a bit of insight, do get in touch – for now, we'll just take Kev's word that it's pretty cool.
Have you got a favourite Batsuit? You sad individual.
About The Author