Kiwis turn out to support Hobbit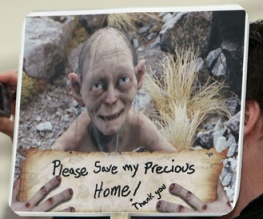 As Warner Brothers prepares to move Middle Earth from New Zealand to Great Britain, thousands of Kiwis have shown their support for the film series which has, to be fair, made them a spectacular amount of money.
Tourist-loving locals have taken to the streets in Wellington, Auckland and Christchurch, wearing LotR-inspired costumes and holding revolting signs such as the one featured to the left of this article.
I mean, really. Gollum lived in Khazad-Dûm for five hundred years, for God's sake – he's not actually going to give a shit, is he? Peter Jackson does, though. The director/producer/Ithron (look it up) of the last three films and the next two has voiced his support for the campaign to keep The Hobbit in New Zealand near his Weta Workshop, but persistent trouble with actors' unions may have scared Warner Bros. and its two-film, half-billion dollar project off for good. We're just pleased it's being made, to be honest.
About The Author