Knightley and Theron in Princess Diana Battle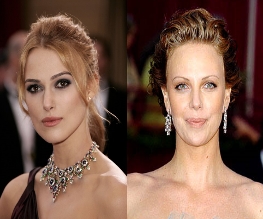 Things are getting weird in the film world; it must be a full moon. Whilst Monster actress Charlize Theron is said to be portraying Princess Diana in a film centered around her relationship with former bodyguard, Ken Wharfe (said to be played by Ewan McGregor), apparently Keira Knightly is also whacking on a tiara in a seperate biopic.
The heat is on. Ding, ding, ding.
In the red corner, backing Theron is producer Stephen Evans who is using "the voices of the people who were there", such as Ken Wharfe as his main attack. In the blue corner, the producers of the Knightley film are using the dirty trick of a highly credited celebrity in the form of golden oldie, Helen Mirren to blow the Theronites out of the water.
Ooh, those guys are good. Mirren is not only well known, but as an Oscar winner for her royal performance as Queen Elizabeth in The Queen, Team Knightley have been very clever putting her forward for the role of Princess Diana's mother, Frances Shand Kydd.
So it's authenticity vs celebrity. Which one would you choose?
I say as long as there's an Elton John cameo in it, I'm sold.
About The Author