Mark Wahlberg to star in Crow remake?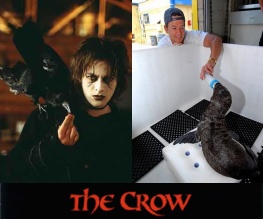 You may remember us reporting that a remake of classic noir film The Crow is in the works – and that it's being scripted by legendary lyricsmith Nick Cave. So far, so inexplicable but pretty cool.
Here's what's not so cool. Debate has obviously been rife over who director Stephen Norrington would consider for the starring role of Eric Draven, a rock star who is brought back from the dead to avenge his own murder.
In the 1994 original, the part was played by Bruce Lee's deliriously cool son Brandon, and The Crow passed into horror legend after Lee died on set when a dummy bullet misfired and punctured his abdomen. This is, I think you'd agree, a role possessed of no small amount of gravitas. So imagine our shock at Best For Film Towers when we heard that the producers of the remake had approached none other than ex-Funky Bunch frontman and Planet of the Apes explorer Mark 'The Other Guy' Wahlberg.
No, you didn't read that wrong. Mark bloody Wahlberg. We've got no argument with him as an actor per se, but as Gene Simmons' undead wet dream? If this film is made, we may just give up and go home.
About The Author