Kristen Stewart and Robert Pattison's Dawn has Broken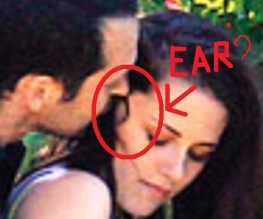 Famous purveyors of truth Daily Mail and US Weekly are claiming that everyone's favourite actress Kristen Stewart has trampled all over Robert Pattinson's sparkly heart and CHEATED on him with the MARRIED director of Snow White and the Huntsman Rupert Sanders. OH EM GEE.
Sanders is not just MARRIED, he's MARRIED to a model; Liberty Ross has beaten US Weekly into submission and claimed, despite the surly chin unique to Stewart's visage, that it is she in the photo. Speaking of the photo, eagle-eyed Twihards have already located the blurry absence of an ear, which apparently indicates some form of image trickery; nay, we say. It would be just like K-Stew to pull a self-loathing Van Gogh on herself.
Though there are more holes in the story than in both the tatters of Pattison's heart and in the lining of Stewart's traitorous vagina, the devastation of fans all around the world does not lie. An unnamed – though oddly murderous – ex-colleague of Pattinson's angrily Tweeted that "this would never have happened with Cho Chang!", while another source who wishes to remain anonymous, possibly due to some infidelity on Pattinson's side, that "OH HELL NO NOT MAH BEW WITH SOME DIRECTOR." BFF are on the hunt for this "boo"; we'll keep you posted.
Sources aren't necessarily surprised at Stewart's conduct; going as far back as her kiss with Ryan Reynolds in 2009's Adventureland, in which he played a married man, we believe Hollywoodlife.com reader Rad when he/she/it claims that "ever since she did Snow White and the Hunstman, she's changed." Unfortunately, not all change is for the better. Our hearts are with R-Patz and Liberty Ross, who should hopefully have either taken solace with each other or have offered themselves up to Thor and his hammer, which has got to be bigger than Sanders' seductive tool.
About The Author