Lady Snowblood explodes onto Blu-Ray TODAY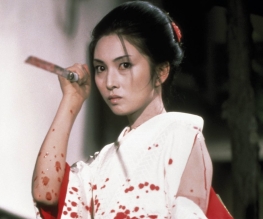 Just as fans of The Magnificent Seven are Seven Samurai fans who don't know it, Star Wars nerds are unwittingly paying homage to Hidden Fortress and people who say Katie Price is a role model should just drop the pretence and tell everyone they love Satan and all his works, so people who rhapsodise about Quentin Tarantino's Kill Bill need to recognise the enormous debt that cult director and toe-lover Quent owes to Lady Snowblood, the iconic Japanese film which inspired Kill Bill. And we're happy to announce that for the first time, Toshiya Fujita's lovingly restored masterpieces Lady Snowblood and its sequel Lady Snowblood: Love Song of Vengeance will be available on DVD and Blu-Ray.
Look at these stills side by side and tell us Quentin Tarantino isn't a cheeky little thief:

Exactly. The character of O-Ren Ishii is directly based on Lady Snowblood herself, and the Kill Bill films borrow heavily from Fujita's plotlines and visual motifs. In fact, we've heard that Tarantino insisted both cast and crew watch Lady Snowblood during breaks in filming on the set of Kill Bill. We bet he wishes he'd waited until these beautiful new editions were available!
Extras and bonus features on the new editions include a collector's booklet illustrated with original stills, newly translated subtitles, original theatrical trailers for both films and an exclusive interview with Japanese cinema guru Jasper Sharp. Oh, and did we mention they're out TODAY? We'll be running a fantastic competition this week if you fancy getting your copy for free.
Are you a Lady Snowblood fan? Let us know below!
About The Author