Laggies loses Anne Hathaway, gains a Keira Knightley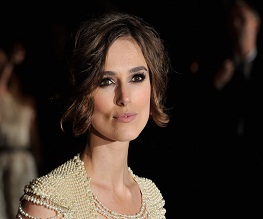 Keira Knightley is currently in talks to replace Anne Hathaway in upcoming comedy Laggies (whatever they are), as the Oscar-winning Ms Hathaway has departed to fulfil her commitment to Christopher Nolan's sci-fi project Interstellar – because no one escapes Nolan once you've worked for him. No one.
If Knightley were to agree – which we reckon she will to keep her Hollywood career afloat – she will be joining Sam Rockwell and The Amazing Chloe Moretz in the Lynn Shelton movie. Laggies tells the story of a young woman who reacts to her boyfriend's marriage proposal by pretending to go on a work-related retreat, but instead buggers off with a 16-year-old. Bit weird. Knightley will play the aforementioned young woman while Moretz will be the teen.
Keira has two projects in the pipeline to look forward to/dread – a reboot of Jack Ryan starring Chris Pine and directed by Kenneth Branagh; and a new movie from Once director John Carney called Can A Song Save Your Life?. We reckon the answer's yes.
About The Author